Informasi hanya tersedia dalam bahasa Inggris

Acknowledging the voices of both beneficiaries and stakeholders plays an important role in all stages of the project cycle, including Monitoring & Evaluation (M&E) activities. Along with this, the number of innovative and participatory M&E approaches is also growing. One of the most recent M&E approaches combines Participatory Video (PV) and the Most Significant Change (MSC) technique – PVMSC.
For those interested in broadening and strengthening their participatory M&E knowledge and skills using a combination of video and storytelling methods, CIRCLE Indonesia and ResultsinHealth is organising a four-day training on PVMSC in Bali, Indonesia. We are pleased to invite you to attend our training!
The training will takes place from 11-14 September 2017 and is facilitated by Rizal Malik, a very experienced M&E consultant, Nur Hidayati, a highly experienced MSC trainer and expert in the implementation of the technique, and Tessa Steenbergen, a documentary filmmaker and experienced PV trainer.
Integrating PV with the MSC technique, creates a powerful M&E tool. The information is gathered, selected and screened by those directly involved and/or affected by the intervention, with the final films portraying the stories of changes caused by that intervention that are most significant to them. Furthermore, it contributes to the empowerment of both beneficiaries and stakeholders and provides strong evidence of changes brought about by a particular intervention to the donors and implementing organisations.
By the end of the training you will be equipped to utilize the PVMSC method in your programmes – bringing changes to life on-screen – and integrating the technique into the design of your M&E activities, data collection and analysis.

Venue:
Rama Beach Hotel.
Jl. JenggalaTuban, Kuta,
Kabupaten Badung,
Bali 80361 Indonesia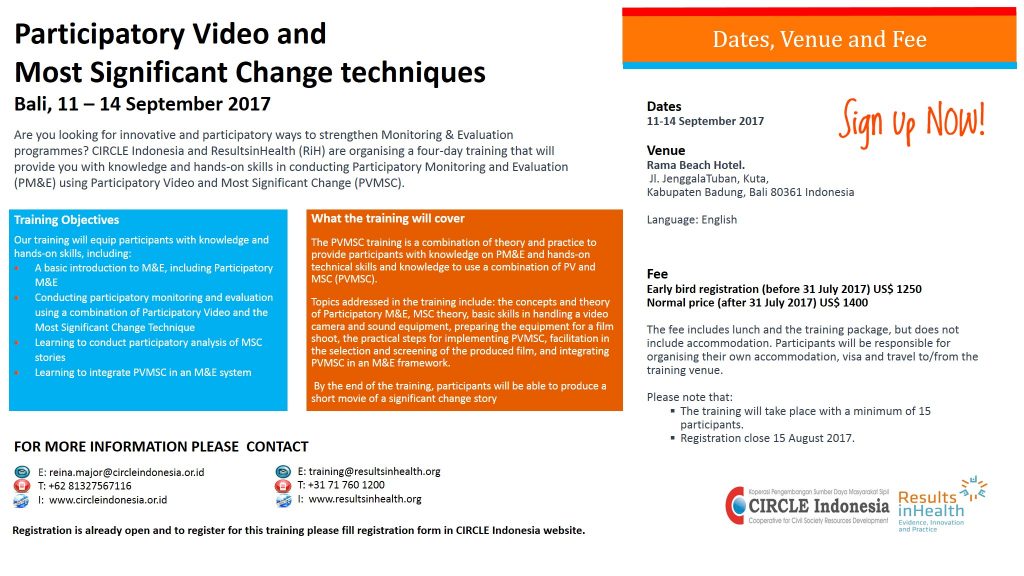 Please refer to the brochure at this link for more information about the PVMSC training
Participatory Video Most Significant Change Technique (PVMSC)
Registration is already open and to register for this training, please fill out the form on the link below
Registration form: Registration Form Participatory Video Most Significant Change Technique (PVMSC)
The training will be held in English