The Most Significant Change (MSC) is one of the techniques in Participatory Monitoring and Evaluation (M & E). It aims to capture the changes in the lives and situations of the community (beneficiaries), through storytelling structured process, resulting from their participation in project interventions. Using MSC, beneficiaries will tell the changes that have occurred in their lives.
Training Objectives:
Provide a better understanding of the MSC techniques
Equip the participants with the skills to implement MSC techniques
This training will help participants to understand the issues on:
– How MSC can contribute to the M & E in 'complex intervention.
– The practical experience in writing and story selection.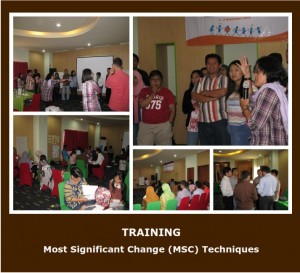 For more information please check on this link:
TOR OF TRAINING MOST SIGNIFICANT CHANGE (MSC) TECHNIQUES
Registration is already open and to register for this training, please fill out the form on the link below
Registration form: Formulir Most Significant Change (MSC) Techniques
The training will be held in bahasa Indonesia.