Since 10 years ago CIRCLE Indonesia has been focusing on the issues of human resource development to support civil society empowerment and development. Various types of training have been held either annually on a regular basis to the public. Tailored made trainings have also been provided based on specific requests from clients.
With the increasing interest among social development workers in the trainings held by CIRCLE Indonesia, CIRCLE Indonesia has developed a calendar of training activities for 2016.
CIRCLE INDONESIA CALENDAR OF TRAINING 2016
Click the training title to get detail information about the training
The trainings will be facilitated by reliable facilitators and resource persons with extensive experience in social development and have worked and /or have had the experience as program manager, team leader or consultant for national and international NGOs for more than 10 years.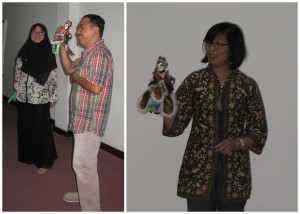 Introduction session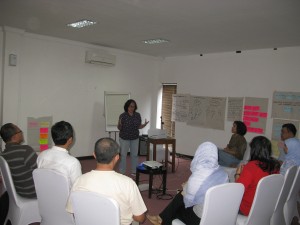 Lectures
Trainings will be conducted using adult learning and participatory methods. In addition to the knowledge and experience of facilitators and resource persons, participants will be facilitated to share and exchange their experience so that the overall training could become a pool of knowledge and experience from everyone involved. The trainings will use a variety of teaching methods such as lectures, group discussions, simulations, case studies, review of short films, role playing and games.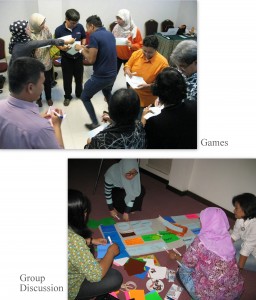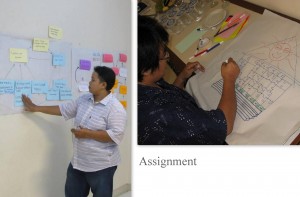 We present the testimonies of a number of trainees in the past trainings to give some ideas about their impressions of the trainings organized by CIRCLE Indonesia:
Rondang S.E Siregar from the Research Centre for Climate Change Study of the Indonesia University witnessed that, "I have been exposed to many training experiences abroad… but I have always believed that trainings on development programmes in the context of Indonesia should be held by our fellow Indonesians, in our own country. We have a whole range of practices and types of projects existing in Indonesia very rich with the context of a number of issues, including forestry, poverty, disaster, gender, and advocacy. The CIRCLE training has successfully tapped such wealth and helped me to have strong understanding and learning from the many experience, which will eventually help me to run my programs and works."

Bonnifacio from CRS Timor Leste wrote in CIRCLE Indonesia Facebook fan page one day after the training: "Thank you CIRCLE, who has organised a very fun and resourceful training. Thank you also to my fellow participants, who were so amazingly fun to be with. Good job!"

 Elisabeth Maria Rosmian of PT Bank International Indonesia Tbk (BII), "The training that was held by CIRCLE Indonesia was fun, conducted in a participatory manner and can be implemented. Thank you CIRCLE Indonesia; looking forward to the next training"

For registration and more information please contact CIRCLE Indonesia office.  All trainings will be held in Bahasa Indonesia.
CIRCLE Indonesia sejak 10 tahun silam telah fokus pada bidang-bidang pengembangan sumber daya manusia untuk mendukung pemberdayaan masyarakat sipil dan pembangunan. Berbagai jenis pelatihan telah diselenggarakan baik setiap tahun secara reguler untuk publik, maupun pada waktu-waktu tertentu dengan tema yang disesuaikan dengan permintaan dari klien dan sesuai dengan bidang keahlian CIRCLE.
Seiring meningkatnya minat para pegiat pembangunan sosial terhadap pelatihan-pelatihan yang diselenggarakan oleh CIRCLE Indonesia, CIRCLE Indonesia menysun kalender pelatihan untuk tahun 2016.