Independent Progress Review (IPR): Pilot Initiative Program of PRSF – TIFA Poverty Reduction Through Safety In Migration In West Nusa Tenggara and East Nusa Tenggara (July – November 2014)
Konsultan: Yohanes Da Masenus Arus, Sabastian Saragih, Damairia Pakpahan, Titus Kusumajati, Abdul Ghofur, Yani Lestari.
Proyek "Poverty Reduction Strategy through Safety in Migration: A Pilot Initiative" (PRSM) diimplementasikan oleh TIFA Indonesia sebagai kelanjutan dari "Empowerment Program for Indonesian Migrant Workers and Families in their Place of Origin", yang dilakukan oleh AusAID ANTARA pada bulan April hingga November 2010. Mengikuti evaluasi dan proses proses pembelajaran yang sudah dilakukan, pada bulan Maret 2012, PRSF menandatangani perjanjian baru dengan TIFA Indonesia, untuk mengimplemementasikan proyek PRSM ini. Proyek ini sepenuhnya diimlplementasikan oleh Yayasan TIFA mulai bulan Desember 2012, bekerja sama dengan 5 mitra lokal di 6 kecamatan, yaitu ADBMI (Lombok Timur), Koslata (Sumbawa), RPK (Kupang), PPSE Keuskupan Belu (Belu and Malaka), dan Delsos Keuskupan Larantuka (East Flores).
Tujuan IPR ini adalah:
Mengidentifikasi capaian proyek dan output, terutama ditingkat penerima manfaat,
Mengidentifikasi tantangan dalam proses mencapai outcome yang direncanakan,
Mengukur kontribusi proyek untuk kesetaraan gender dan pemberdayaan perempuan,
Mengidentifikasi faktor-faktor yang mendukung keberlanjutan proyek
Mengidentifikasi pembelajaran untuk meningkatkan kinerja dimasa yang akan datang.
IPR dilakukan dengan menggunakan metode kualitatif dan kuantitatif. Metode kuantitatif dilakukan melalui distribusi dan analisis 400 kuesioner di 4 kecamatan di Lombok Timur, Sumbawa, Kupang, Flores Timur dan 100 kuesioner lain untuk kecamatan Belu dan Malaka. Dua kampung ditiap kecamatan dipilih sesuai dengan kriteria yang dikembangkan, dan dalam tiap kampung ada 50 responden yang dipilih secara proporsional. Sedangkan metode kualitatif dilakukan melalui wawancara mendalam dengan 150 orang dan 20 FGD di 6 kecamatan. Jadi ada 4 FGD per kecamatan, kecuali Belu dan Malaka yang hanya 2 FGD per kecamatan. FGD dilakukan di 3 kampung yang terpilih dari 6 kecamatan. Sejumlah pemangku kepentingan utama dari BNP2TKI, DFAT, PRSF dan TIFA juga diwawancara. Wawancara juga dilakukan dengan konsulat jendral Republik Indonesia di Sabah, Malaysia, juga 3 FGD di Kinibalu dan Keningau, sabah, Malaysia.**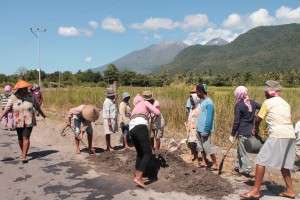 by