Consultant: Yanty Lacsana, Yani Lestari & Henricus Hari Wantoro
The study held in August 2015 is to determine the economic, social and environmental impact of program activities and assess the effectiveness of each strategies in achieving results, and the capacity of partners to implement the strategies. The qualitative analysis method used theory of changes (ToC) as the basic framework to assess changes happened over time among the stakeholders. This framework is developed in concurrence with the value-chain development approach in supply capacity, develop capacity to linkages between the 'middle actors' of the value chain and smallholder farmers and enhance linkages of farmers'organisations and the market.
CIRCLE Indonesia conducted data gathering and validated the information from partners and Hivos through in-depth interview and FGD to farmers/ tappers, farmers' groups, cooperatives, ICS staff and collectors in 10 villages in Kulonprogo, 5 villages in Banyumas and 1 village in Purbalingga as well as to the local government, big buyers and exporters
Hivos regional office of South East Asia (Hivos ROSEA) has since 2008 supported the partnership program with PPLSH in the strengthening of the coconut palm sugar farmers in Banyumas, Central Java and with KSU Jatirogo for farmers in Kulonprogo, Yogyakarta. Using the value chain approach as the main strategy Hivos provided support to LPPSLH and KSU Jatirogo to facilitate the implementation of Internal Control System and quality management system for organic certification of coconut palm sugar, particularly in the production of crystal sugar for international market.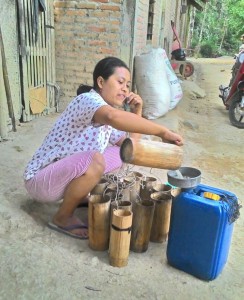 This project helped in strengthening capacity of more than 5000 farmers in producing organic certified coconut palm sugar, reduced pesticide and chemical fertilizer, improving their living condition, social and economic status and take part in the value chain. Partners program has strengthened farmer groups in the supply chain side with the establishment of cooperatives, ICS team, and CPU/warehouse; improved organizational management capacity and increased youth involvement in organic coconut sugar value chaina s cooperatives staff, ICS cadres and ICS officers; also in marketing as middlemen/collector or quality assurance officer. The cooperative has capacity in ensuring the quality of coconut crystal sugar produced in majority target areas has met the organic standard set by the international organic certification body and quality cast sugar for big industry such as soybean sauce producer. Cooperative implemented ICS that inspired farmers and other actors in the coconut sugar industry to adopt similar practices albeit without certification, hence replicates the process without financial investment from the program.
The growing business of organic coconut palm sugar has driven cooperative to take professional measures in managing their business and relations to the market national or international. The cooperative, KSU Jatirogo in Kulonprogo and KSU Nira Satria in Banyumas are more confidence in running its operation and remains true to its nature to put members first.
The coconut palm sugar certification has a tremendous impact on local government policy in developing local economy. The recognition of coconut palm sugar as essential commodity for generating local revenue. The Cilacap District budget supported the fund for certification. The KSU Jatirogo gained support to build warehouse in Kulon Progo from Bank of Indonesia, while Cooperative District Office support the warehouse and build healthy kitchen with energy-saving stoves in Banyumas. Office of Industry and Commerce support for processing units (oven for drying sugar, sieve, tray, etc.) then supported KSU for connecting coconut sugar producers with market, involved them in the trade conventions/promotion arena in the local, national/regional and international. Banyumas government provide provision of accident and life insurance coverage for coconut sugar tappers in since 2012 and helped farmers in maintenance the coconut trees and give free tree seedlings