Lead organizer: Reina Asmedi
As part of the movement to reduce hunger and poverty in the world where natural resources are increasingly on the decline, Oxfam has initiated a campaign called GROW. This campaign includes the issue of food, climate change and land issues. For a place to share GROW campaign strategy that has been conducted in the south and north countries, Oxfam formed a forum called Economic Justice Regional and National (EJ Rena).
EJ Rena conducted annual global meetings and for this year, 2015, Oxfam in Indonesia hosted the meeting. CIRCLE Indonesia has been appointed by Oxfam to organize this global event. Support conducted by CIRCLE Indonesia started with the preparation of the event, selecting venues, field trips, talk shows, cultural events, dinners and traditional performances, provision of interpreters, transportation, workshop equipment, printing material and publications, souvenirs, city tour, providing stand of handicraft and money changer, In this occasion, Oxfam also produced a GROW campaign video.
The EJ Rena and Asia GROW Working Group meeting held on 24 to 29 August 2015 in Eastparc Hotel Yogyakarta, was attended by 45 participants from 12 countries. Despite the very tight schedule, the participants were very enthusiastic & excited and enjoyed the events in Yogyakarta. The meeting was closed with the evaluation and dinner at Ratu Boko restaurant while savoring sunset at Ratu Boko temple complex.
"Thank you for your support at EJ ReNa Meeting. Everything went smoothly.. The best meeting ever!", Dini Widiastuti (Economic Justice Programme Director Oxfam)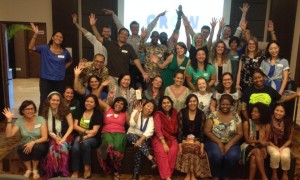 EJ ReNa participants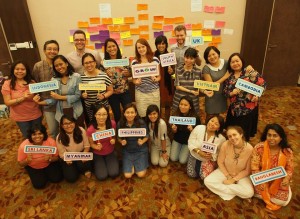 GROW Campaign Working Group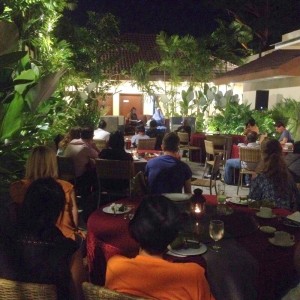 Talk show with Ibu Supariyem, Female Food Hero
Enjoying dinner and watching Ramayana Ballet at Prambanan temple