CIRCLE Indonesia has been regularly providing this training since 2011. Participants of the training sessions have expressed their satisfaction of the training provisions, including those from TIFA Foundation, KEHATI, Social Impact Timor Leste, Aceh Development Fund (Oxfam's partners), Aliansi Jurnalis Independen (AJI), LP3AP Wamena (Oxfam's partners), Medicine du Monde, CRS Timor Leste, World Vision Indonesia, Bank International Indonesia, Pertamina, BP Migas, etc. Some of the expressions about CIRCLE Indonesia services can be seen in this link: Video Training on Social Development Program Design and Planning
On 8 – 10 November 2017, CIRCLE Indonesia will conduct a Training on Result-Based Program Design and Planning for public.
Objective
By the end of the training, the participants are expected:
Have a better understanding of the different types of development approaches, and especially the result-based development approach

Have better skills in designing the program using a LFA (Logical Framework Approach), which is result oriented.
Training Fee
The fee for participation in the training is Rp 4.500.000 (Four millions five hundred thousand Rupiah).
Early bird, the registration before 8 September 2017 only pay for Rp 4.000.000 (Four millions Rupiah).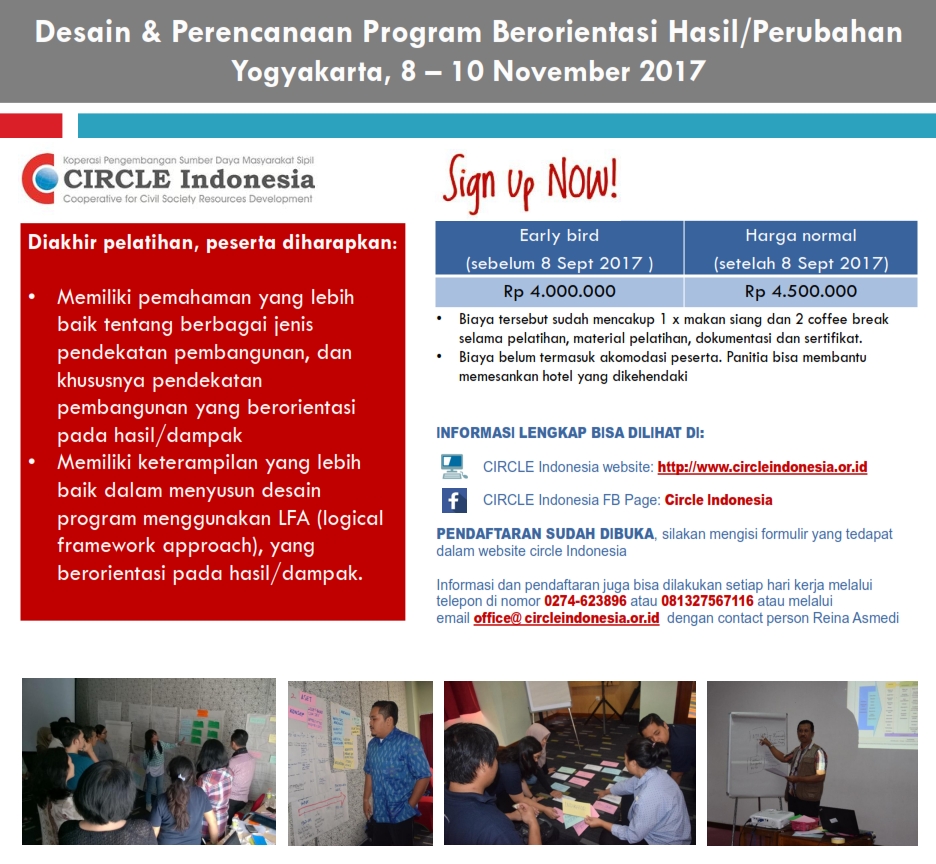 For more detail information please read at this link
TOR Training on Result-Based Program Design and Planning
Registration is already open and to register for this training, please fill out the form on the link below: Form for Training on Result-Based Program Design and Planning
*The training will be in Bahasa Indonesia