Global
Assembly celebrated women's leadership achievements
and charted the future, 11 – 13 November
2014 in
Yogyakarta, Indonesia
Team Leader: Yani Lestari
Organizer: Reina Asmedi
Leaders in the informal economy from around the globe gathered in Yogyakarta, Indonesia on 11-13 November 2014 to celebrate significant achievements in recent years, and to chart the years ahead. The gathering of about 150 organizational leaders, researchers, activists and policymakers happened as part of the General Assembly of Women in Informal Employment: Globalizing and Organizing or WIEGO from 11-13 November 2014.
Through its international networks, WIEGO has links to HomeNet Indonesia, which works with home-based workers, and JALA PRT, the national association of domestic workers. WIEGO has also carried out research on behalf of the MAMPU women's empowerment initiative of AusAID and the ILO with the Government of Indonesia.
The Assembly, held every four years, celebrated the growing strength of women in leadership roles in the informal economy, which accounts for the majority of employment in most regions of the world. In the last day, WIEGO held a Public Event Forum to discuss "Formalizing the Informal Economy: Perspectives of Informal Workers" to allow the international participants to engage with the government, academic and activist communities in Yogyakarta on the important topic of "formalizing the informal economy".
CIRCLE Indonesia assisted WIEGO to organize this event. This forum was attended by 180 participants; 135 international participants from 40 countries and 45 local participants represented NGOs, informal worker associations, government, and individuals who are concerned about the rights of informal workers in Indonesia.
About WIEGO
WIEGO is a global action-research-policy network that seeks to improve the status of the working poor, especially women, in the informal economy: through stronger organizations, better data and research, and fairer policies and regulations.  Visit  www.wiego.org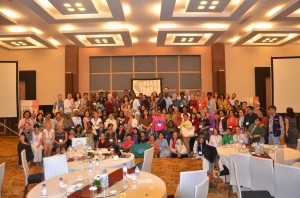 Photo by WIEGO