ABOUT THE TRAINING
Just like human life, a programme has its own cycle as well, from the start it is "planned to be born" until its end. Good planning articulating systematic based on specific approaches. There are several approaches in programme planning used by the program planners. Afterwards, a programme has to be monitored and evaluated. Monitoring & Evaluation (M&E) plays a significant role in the lifecycle of a programme as this is where reflections and learning can be drawn for future improvement of the programme implementation. The learning will contribute to increased effectiveness of a project in achieving the expected changes. Ideally, Planning, Monitoring & Evaluation is conducted in participatory manner to ensure programme management and beneficiaries together to be able to make the right decision and that the programme runs as planned and to make necessary modifications.
OUTPUT
At the end of the training, participants are expected to:
Have better understanding and skills in programme planning and designing programme Monitoring & Evaluation
Understanding the concept of participatory in the programme planning, monitoring and evaluation.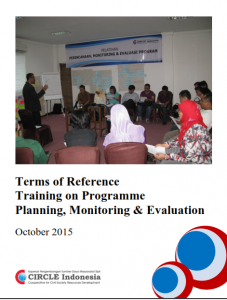 For more detail information please read at this link TOR Training on Program Planning, Monitoring and Evaluation
Registration is already open and to register for this training, please fill out the form on the link below: