* Only available in Bahasa Indonesia.

Evaluasi untuk menilai apakah suatu program/proyek memberikan dampak positif dan manfaat yang direncanakan serta mendokumentasikan pembelajaran terkait harus dilakukan oleh evaluator independen yang tidak memihak (bias) agar hasil yang diperoleh dapat dikatakan obyektif. Tantangannya, bagaimana menyelaraskan 'keinginan' dan perspektif pemrakarsa program/proyek dengan evaluator independen yang umumnya adalah pihak ketiga yang, meski sudah berpengalaman, tidak serta-merta telah menguasai secara mendalam program/proyek yang akan dievaluasi olehnya? Kesenjangan perspektif ini dapat dijembatani dengan menggunakan Kerangka Acuan Kerja (KAK, atau Terms of Reference, ToR, atau sering juga disebut dengan Lingkup Pekerjaan/Scope of Work, SoW, oleh sebagian orang). KAK menjadi penting karena ia adalah perangkat yang dijadikan acuan bersama oleh pemrakarsa program/proyek dan pihak evaluator independen. Sebuah KAK yang lugas dan jelas akan memberikan gambaran yang cukup rinci tentang beragam aspek terkait dengan program/proyek yang akan dievaluasi, dan terutama hal-hal yang perlu dievaluasi dan dimunculkan baik sebagai keberhasilan maupun pembelajaran bagi program/proyek.
Untuk mengakomodasi kebutuhan KAK yang baik, CIRCLE Indonesia, yang telah berpengalaman dalam melakukan evaluasi terhadap beragam program-program pengembangan masyarakat, menawarkan pelatihan sehari tentang "Memahami dan Menyusun Kerangka Acuan Kerja untuk Evaluasi Program/Proyek" yang akan diadakan pada tanggal 28 Oktober 2017.
Tujuan pelatihan
Pelatihan ini bertujuan untuk memberikan
Pemahaman kepada peserta tentang apa yang dimaksud dengan Kerangka Acuan Kerja (KAK)
Bekal kepada peserta agar mampu menyusun sebuah KAK
Pada akhir pelatihan, peserta diharapkan:
Memiliki pemahaman yang lebih baik tentang Kerangka Acuan Kerja (KAK)
Memiliki ketrampilan untuk memeriksa sebuah KAK dan mengidentifikasi komponen-komponennya; dan
Memiliki ketrampilan untuk menyusun sebuah KAK
Biaya pelatihan
Biaya untuk mengikuti pelatihan ini adalah sebesar Rp. 1.500.000,– (satu juta lima ratus ribu Rupiah). Biaya tersebut sudah mencakup makan siang dan 2 rehat pagi & sore selama pelatihan, serta material pelatihan, dokumentasi dan sertifikat.
Early bird. Calon peserta yang mendaftar sebelum tanggal 28 Agustus 2017, cukup membayar Rp 1.250.000 (satu juta dua ratus lima puluh ribu rupiah).
Biaya tidak termasuk akomodasi peserta. Panitia bisa membantu memesankan hotel yang dikehendaki.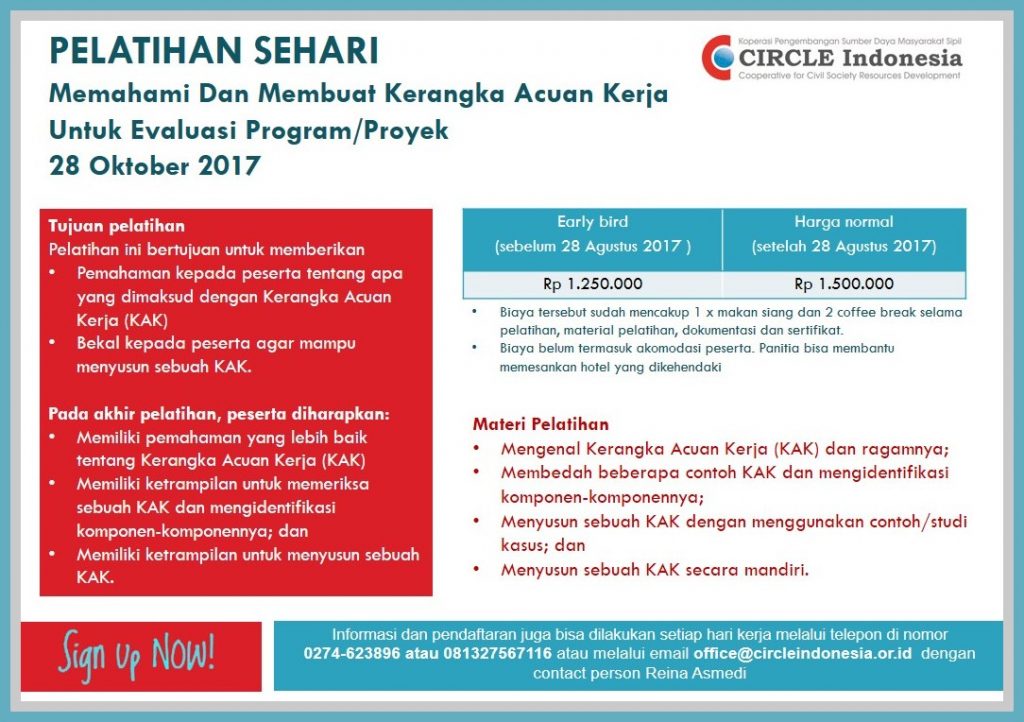 Untuk detail informasi silakan lihat di link ini
Kerangka Acuan Pelatihan Memahami dan Menyusun Kerangka Acuan Kerja untuk Evaluasi Program/Proyek
Pendaftaran sudah dibuka dan untuk mendaftar pelatihan ini, silakan mengisi formulir pada link dibawah ini: Formulir Pelatihan Pelatihan Memahami dan Menyusun Kerangka Acuan Kerja untuk Evaluasi Program/Proyek
by