Only available in Bahasa Indonesia
Sukses Angkatan ke-1, Membuka Angkatan ke-2
Angkatan 1 Pelatihan Project Cycle Management utnuk meningkatkan Efektivitas Program CSR telah sukses diselenggarakan pada tahun 2019 lalu, tepatnya pada tanggal 17 – 19 Juli 2019, bertempat di Hotel Ibis Styles Tanah Abang, Jakarta. Pelatihan berlangsung dinamis dengan tingkat partisipasi peserta yang tinggi  dan diikuti oleh peserta dari PT Austindo Nusantara Jaya Tbk, WaterAid Timor Leste, Semen Tonasa dan Nusantara Regas.
PCM training one of the best training I've ever joined, cozy banget dan sangat-sangat bermanfaat. Awalnya belum percaya diri untuk menyusun program khususnya dengan pendekatan logframe, tapi tiga hari ini belajar banyak sekali specially M&E system yang masih jarang diterapkan.  Jadi mengispirasi dan menambah wawasan untuk aplikasinya nanti di pekerjaan. So thank you! (TriaKristianiHutagalung, PT ANJ Tbk)

Pemateri pada pelatihan ini sangat kompeten, mengedukasi dan sangat membantu peserta dalam memahami materi yang diberikan. Sedangkan materi-materi yang diberikan sangat relevan dengan pekerjaan saya saat ini, selain itu dengan mengikuti pelatihan ini menambah ilmu, pengetahuan serta wawasan saya. (Enos, Semen Tonasa)
Tujuan Pelatihan
Pelatihan ini bertujuan untuk memberi peserta pemahaman dan ketrampilan tentang:
Bagaimana merancang dan merencanakan program CSR, dengan mempertimbangkan aspek keberlanjutan bagi perusahaan
Membuat dan/atau menerapkan rencana implementasi dan monitoring program CSR; dan
Bagaimana menyusun rencana dan/atau melaksanakan evaluasi untuk menilai relevansi, efektivitas, keberlanjutan dan dampak program CSR.
Metode Pelatihan
Peserta akan diberikan link zoom. Link akan diberikan setelah resmi mendaftar (membayar). Kemudian akan dilakukan uji coba untuk memastikan peserta dapat mengakses link.
Pelatihan dilakkukan setiap hari Selasa pukul 09.00 – 11.30 WIB
Presentasi
Tanya jawab dan sharing pengalaman
Curah pendapat, diskusi-penugasan.
Biaya Pelatihan
Biaya untuk mengikuti pelatihan ini adalah sebesar Rp 6.500.000,00 (enam juta lima ratus ribu rupiah).
Early bird, pendaftar sebelum tanggal 6 Agustus 2020 hanya perlu membayar Rp 5.500.000 (Lima juta lima ratus ribu rupiah).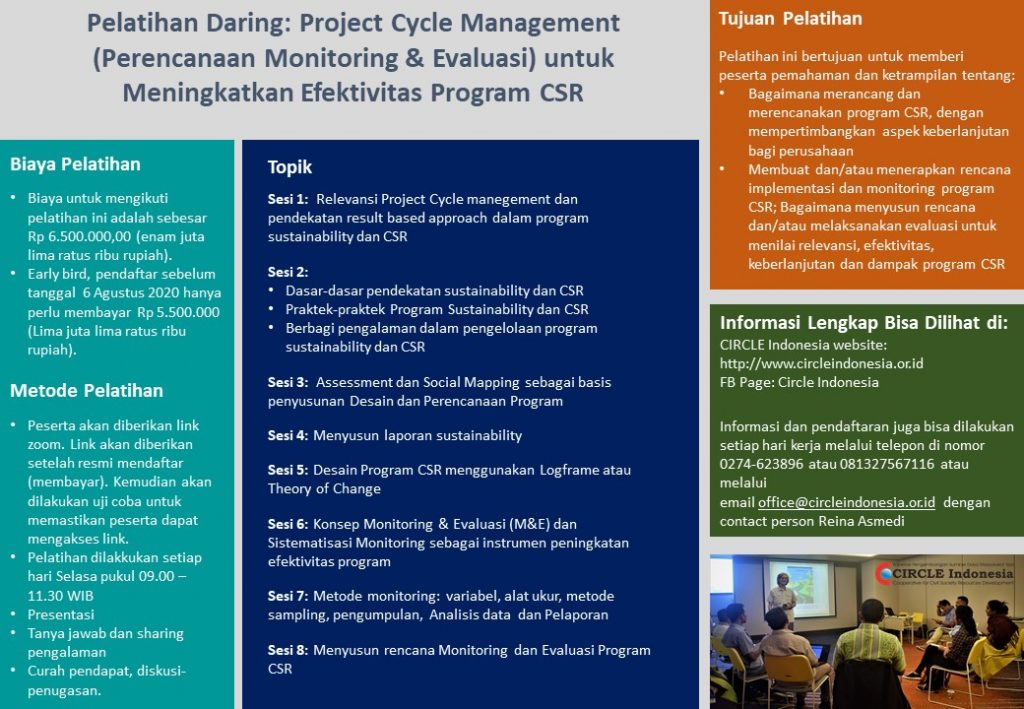 Untuk detail informasi silakan lihat di link ini
KERANGKA ACUAN PELATIHAN PROJECT CYCLE MANAGEMENT (PERENCANAAN MONITORING & EVALUASI) UNTUK MENINGKATKAN EFEKTIVITAS PROGRAM CSR
Pendaftaran sudah dibuka dan untuk mendaftar pelatihan ini, silakan mengisi formulir pada link dibawah ini:
Formulir Pelatihan Project Cycle Management (Perencanaan Monitoring & Evaluasi) Untuk Meningkatkan Efektivitas Program CSR
by